E.ON develops highly-secure smart and efficient connected home solution in collaboration with Microsoft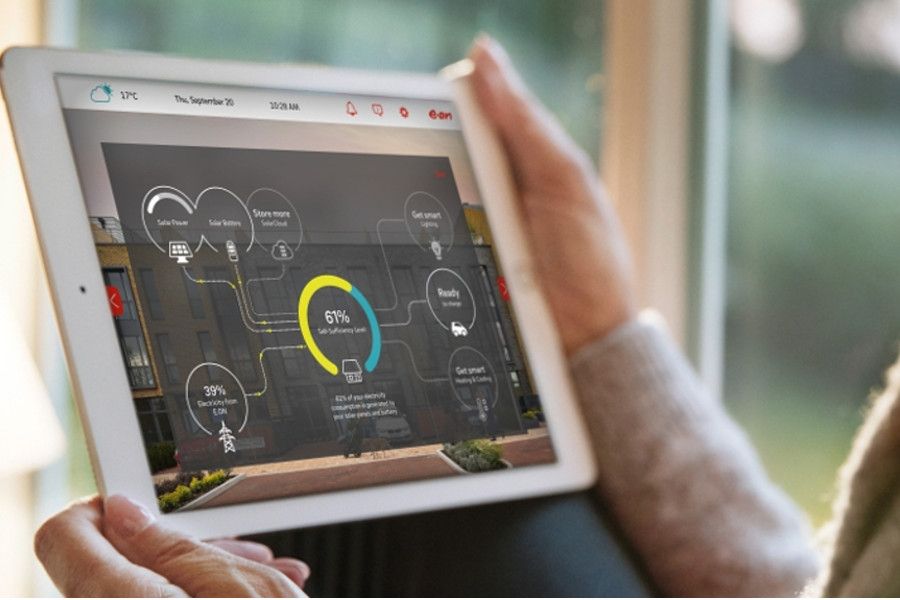 The home of the future will be smart. It will lower energy bills and improve homeowners' carbon footprints, while allowing an increased level of freedom and considerably improving everyday life in general. This vision is now becoming a reality – and E.ON, in collaboration with Microsoft, is making that possible. The two companies have entered into a collaboration, centering around a software solution for a home that is setting new standards. E.ON is set to release the first version of this new product to market at the start of 2019.
Essentially, this is the next step in smart home technology. It focuses specifically on energy management and aims to combine data from all electrical devices within the home – including heating and cooling systems, PV installations, battery storage or chargers for electric vehicles – on a single platform, offering customers an excellent overview via an accessible dashboard with simple control options. Until now, different generators and systems within the home have been controlled with the use of individual apps that are incompatible with one another. With this new solution, E.ON is offering a central, convenient control system for each and every unit via one app.
Using Artificial Intelligence and Internet of Things (IoT), the control platform is constantly learning and able to develop into a personal assistant. Rather conveniently, E.ON's home controller will be able to predict when its residents are due to come home, for example, and then set the desired room temperature in advance. Homeowners are also able to control energy consumption in such a way that ensures that only self-generated electricity is used, whenever possible.
It will even allow excess electricity from an EV battery or PV system to be traded on the market if prices are high and trading would be beneficial for the homeowner. Moreover, the system is also able to recognize when cheap renewable power is available from the grid, should the electricity produced within the home be insufficient. E.ON will be the first energy company to offer this solution in Europe.
"Digitization, Internet of Things and Artificial Intelligence provide us with new opportunities to offer customers increased efficiency and convenience. As a result of our collaboration with Microsoft, we are set to make a step change in the intelligent home sector," emphasizes E.ON Board Member Karsten Wildberger, adding, "We are presenting a solution that takes all aspects of managing energy at home to a new level. Our solution is based on state of the art technology and will undergo continuous development."
Galen Hunt, Distinguished Engineer and Managing Director, Microsoft Azure Sphere said, "E.ON is delivering on a bold vision to make the world a better place, enabling a future of energy management built on a foundation of secure devices and cloud infrastructure. As such, E.ON understands that deploying only highly-secure devices is critical to earning and maintaining the trust of their customers. Our collaboration will help ensure the devices across E.ON's new Home Energy Management solution meet the highest standards of security available."
As vast amounts of information are stored and encrypted in each home's Energy Management Box data security is at the core. Data is protected by Microsoft Azure Sphere, Microsoft's solution for securing devices connected to the internet. Azure Sphere is made up of three components: Azure Sphere-certified microcontrollers; Azure Sphere OS, an operating system specially developed for secure IoT applications; and Azure Sphere Security Service, a turnkey cloud service that provides ongoing security updates to connected devices to ensure they remain secured as threats evolve. This central connection guarantees that the entire system is much less susceptible to external attacks.
E.ON's product is set to enter a market that is expecting strong growth. Currently, 40,000 smart home systems are sold in Europe every year. According to a study made available to E.ON, the market volume is anticipated to grow to 200,000 units within three years. Should e-mobility usage increase considerably, then even higher growth rates would be expected.
Source of information
E.ON & Profibusiness.world
Date