A production facility that has become part of the family - Happy Birthday, Salzgitter!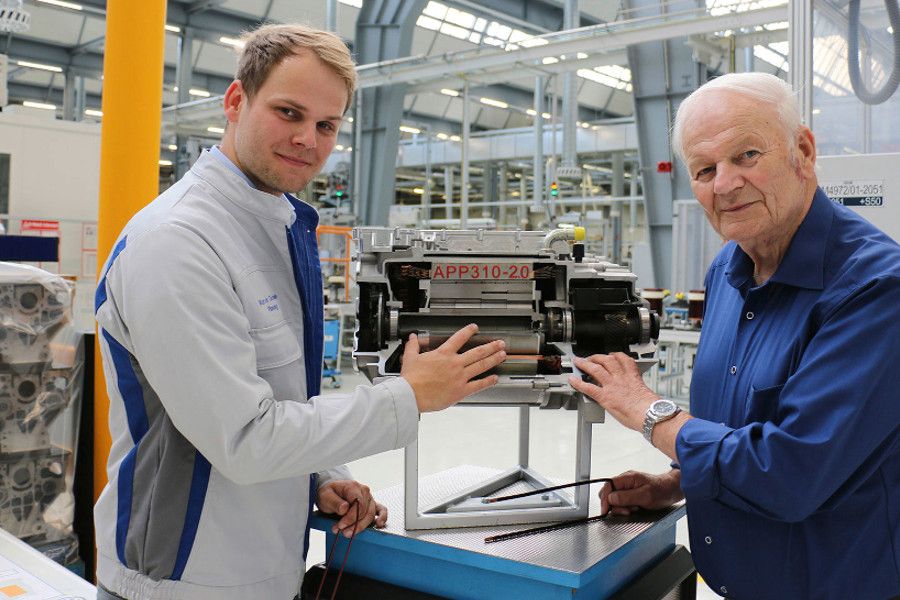 When the Volkswagen plant in Salzgitter went into operation half a century ago, Georg Schoske was already an old hand at the company. "I had been manufacturing the Beetle in Wolfsburg since 1962. It was fun. But when Salzgitter opened, you didn't have to ask me for long," the 81-year-old recalls. Even then, Schoske lived with his family in Steinlah – 60 kilometers from the Wolfsburg plant, but only 20 kilometers from the Salzgitter plant. Even before the official inauguration, he switched. Since then the factory has become a family affair. Son Rainer Schoske (55) started his professional life in Salzgitter, as did grandson Marvin Schoske (23). Three generations – one factory.
As in Wolfsburg, Georg Schoske initially worked in vehicle construction in Salzgitter. With a small team, he repaired tools and machinery for the production of the front-wheel drive K70, which is regarded as one of the bridging links between the rear-wheel drive Beetle and the Golf, which is also front-wheel driven. "Those were good times. We had a lot of work. But we were also well paid, and we were able to make progress," reports Georg Schoske.
Five years later, the work for Schoske changed – and for the entire plant, which, after the successful launch of the Golf in Wolfsburg, discontinued vehicle assembly and specialized in engine production. "That was not easy for us. Some colleagues left the company and started working for other companies. I stayed and have no regrets."
The Salzgitter location is again undergoing profound changes, as the plant is undergoing a transformation towards electromobility. In addition to manufacturing state-of-the-art combustion engines, it specializes in the production of the rotor and stator, two elementary components of the electric drive. Volkswagen is also bringing together the development, testing and pilot production of the battery cell in Salzgitter: At the Center of Excellence, some 300 experts develop innovative production processes for lithium-ion batteries, among other things. From 2024, a joint battery cell factory is to go into operation in Salzgitter with the Swedish company Northvolt AB.
Part of the change is Marvin Schoske (23). In 2014, he began his training as an industrial mechanic at the Salzgitter plant, while at the same time studying mechanical engineering. Shortly after completing his dual studies, he switched to rotor production as a planner and shortly afterwards to stator production. "We are building something completely new here. I find this exciting, it presents us with new challenges," he says.
The stators from Salzgitter are used for the all-electric ID.3, which will be delivered to customers from September. A milestone in Volkswagen's electric offensive – and a major task for the planning team. "We are continuously increasing stator production. Our goal is to build 2,000 units a day as part of a three-shift operation in future," reports Marvin Schoske.
What is new in Salzgitter is not only the stator production itself – the manufacturing process is also innovative: With the so-called Hairpin technology, the space inside the stator is optimally utilized, which increases the efficiency of the electric drive. More than once, Marvin Schoske has shown interested visitors the production process. "We get a lot of attention. Others learn from us," he says.
There are regular exchanges with Volkswagen teams from China, for example, one of the most important markets for e-cars. But Marvin Schoske also calls China frequently for private reasons – because that's where his father works. For the FAW-Volkswagen joint venture Rainer Schoske is responsible for the production of battery systems and other electrical components at four locations. "The volume is increasing from year to year. We are in the middle of a transformation," he says.
After training and studying in Salzgitter, Rainer Schoske gained a wealth of international experience in the Volkswagen Group: He worked in Mlada Boleslav in the Czech Republic, was plant manager in Polkowice in Poland and has been living in Changchun in eastern China for the second time since the beginning of 2017. "However, Salzgitter has always remained the point of contact for our family," he says.
Starting in 2009, Rainer Schoske headed production at his home base for five years. "There were also important changes at that time. A new phase began with every engine generation," he recalls. The switch to e-mobility, however, was an even bigger step – and at the same time an opportunity for the location. Rainer Schoske: "Salzgitter has always been known for its talents and its high level of competence. The plant must and will also earn this reputation for its e-drive system."
Stator
In every electric motor there is a fixed stator and a rotor rotating in it. The stator consists of copper wire coils. If electric current flows through these coils, a rotating magnetic field is created in the stator, which makes the rotor rotate. The rotating motion is based on a simple physical principle: Opposite poles of magnets attract each other, opposite poles of magnets repel each other.
Source of information
Volkswagen and ProfiBusiness.world
Date
Fotogalerie