Groupe PSA publishes its CSR Report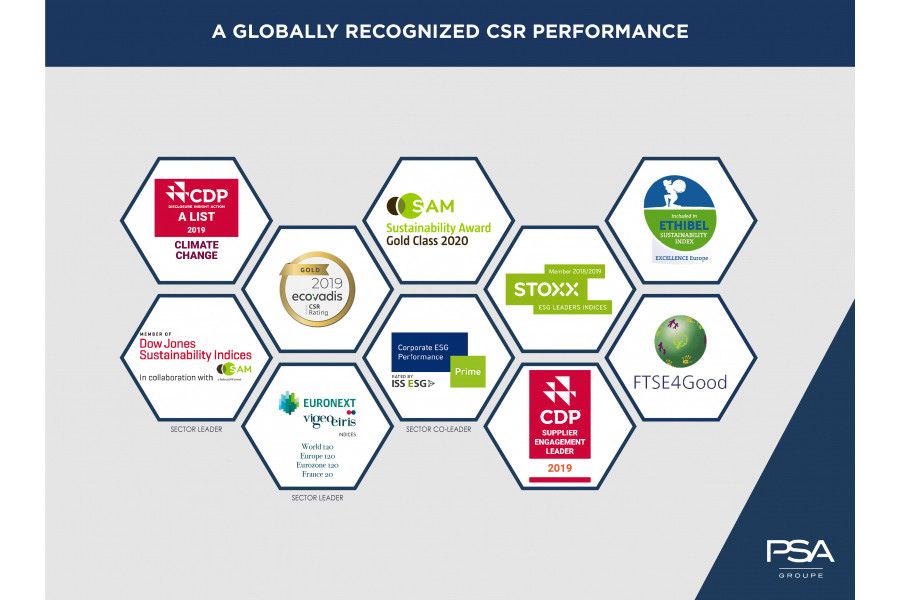 As mobility providers, we are the front-runners of the necessary global transition and take this responsibility seriously.
Carlos Tavares, Chairman of the Managing Board, Groupe PSA : "Groupe PSA corporate purpose is to ensure the freedom of movement by providing safe, sustainable, affordable and enjoyable mobility. Freedom of movement is a fundamental right for humanity."
Performance
Groupe PSA is one of the most efficient economic players in its sector and is also a socially recognized company, with the award of industry leader in the Dow Jones Sustainability Index for the third year in a row and being included in the world's leading SRI indexes.
Financial and extra-financial performances feed each other. This double economic and societal performance is the best protection against the vagaries of the markets.
At Groupe PSA, we drive the change against the status quo. We have identified seven megatrends that will shape the future of mobility: climate change, connectivity, autonomy of products, digitalization, economy of sharing, change in customer behaviour and divergence of the markets.
Our teams focus on these seven trendsto deliver the results that allow our company to identify and grasp all opportunities.
Our state of the art products and services offering is our way of strongly defending the freedom of movement
as a fundamental right for humanity. Designing a sustainable future of mobility is both a matter of economic performance and responsibility.
In 2019, the even more demanding economic, political and environmental context has urged the necessity to foster cooperation and initiatives to co-construct a desirable future. Climate change, above all factors, pushes us to thoroughly reconsider our mind-set and behaviours. Yet, the consensus on solutions is still missing: valid concerns and demands always undermine global progress towards climate neutrality.
This is why all Groupe PSA employees are laser-focused on the Group's corporate purpose, which is to "ensure the freedom of movement by providing safe, sustainable, affordable and enjoyable mobility". We make sure that it permanently guides our business strategic plan and our philanthropic actions to enhance performance, with no compromise on ethical responsibility. We use a human-centred lens for all business operations because it helps us see around corners, imagine what best fits our stakeholders' interest and deliver a competitive edge.
Responsibility
A long-time supporter of the UN Global Compact and the ILO (International Labour Organization) Principles, Groupe PSA includes environmental and societal impacts in all its decision-making processes in a 360-degree approach.
Citizens expect decisions from their representatives and solutions from companies in a coordinated way. We focus on bringing people pragmatic solutions, which combine freedom of mobility and quality of life on the planet now and for the next generations. We must beware any dogmatism that would lead to the "urban immobility" and the "rural mobility divide" with a forecast of 9 billion inhabitants by 2050.
This is where corporate responsibility stands for us.
In the short term, we must ensure that we maintain the capacity to offer affordable technological goods to customers, consistent with their purchasing power.
In the medium term, the energy transition will lead to an obvious additional cost for households, due to change in technologies at a previously unknown pace and higher energy costs. However, this extra cost should not be over-attributed to their mobility budget: direct or indirect carbon taxes, equally distributed to all economic sectors, would reduce the share of mobility in household budget and allow individuals to proceed to their own arbitrations between the indispensable expenditure and the spending they could, at least partially, give up.
We take the UN Sustainable Development Goals as a framework for our action and strongly believe that concrete solutions should be tailored to the specific needs of citizens in their specific territory with a longterm view. As President of the PSA Foundation, whose philanthropic mission is to provide mobility solutions to the most fragile population, I know the impact of the lack of mobility on personal situations.
Transparency
As a leading company, we make sure pursuing our corporate purpose fully benefits our stakeholders with consistent decisions and actions over time. Our customers, our employees, our investors, our suppliers and the civil society challenge us and expect us to make a positive contribution to the economy, the society and the environment.
The clarity and the quality of the information published transparently by Groupe PSA is a key factor of efficiency in our permanent and challenging dialogue with our stakeholders. It also feeds the public debate, for the benefit of the general interest.
I invite you to read this annual CSR Report, which presents how our responsible business model creates shared and sustainable value. The 23 CSR commitments supported by accountable members of Groupe PSA Executive Committee are part of our proactive trajectory. All of the Group's employees are committed to implementing our CSR roadmap, which reflects our ambitions for the future.
The CSR Report presents all the work carried out by the Group on its societal responsibility issues: initiatives, annual results and long-term targets that put into action the Group's sustainable growth strategy.
It includes the integrated report, the climate report and the human rights report.
Drafted with the support of a network of experts from the Group's various activities and audited by an independent third party, this report is a reference publication for all of the Group's stakeholders.
Groupe PSA CSR Report has been awarded "Advanced" for five consecutive years by the United Nations Global Compact. This label rewards both transparency and best practices in sustainable development.
Groupe PSA's DNA is presented in 8 Chapters
1. Creating shared and lasting value (Integrated Report)
Responsibility is to take each day engaging decisions which we will be accountable for in the future. Groupe PSA relies on continuous dialogue with its various stakeholders to build long-term responses to economic, environmental, social and societal issues.
2. Creating a tangible impact on climate change (Climate Report)
Groupe PSA demonstrates tangible commitments for a low-carbon economy, by means of a strengthened climate governance which put climate at the core of the decision-making process, and thanks to a holistic and offensive strategy with the aim to reduce CO2 emissions across its entire value chain.
3. Human Resources: Driving Groupe PSA transformation
To engage an agile co-construction of the company's future, Groupe PSA relies on an active dialogue with employee representatives. It is committed to protect employees' health and safety in the workplace to unleash the full potential of their talents.
4. Meeting customers expectations on Quality, Mobility Solutions and Data Privacy
To meet market expectations, all the Group's processes and decisions are customer-focused.
Groupe PSA aims to design products with a top-notch reliability, high-quality services and complementary solutions to meet all mobility needs, while ensuring to customers the transparency and the protection of their personal information.
5. Preparing for growing societal expectations on Health and Safety
Groupe PSA cares about people and their environment. Its vehicles are fitted with state-of-the-art protection to ensure human security (for occupants and all road users), and with breakthrough technologies to reduce atmospheric pollutants.
Its plants are engaged in reducing discards and protecting biodiversity, to preserve the planet for the next generations.
6. Ensuring protection of Human Rights and preventing Ethics violation (Human Rights Report)
Preserving human rights requires the respect of ethical rules by all players.
Groupe PSA discourages any attempts of corruption, in cooperation with partners.
7. Implementing responsible use of Natural Resources
From the vehicle design phases through to each stage of its life cycle, Groupe PSA is commited to optimise use of natural resources and waste recovery, notably through eco design and recyclability to feed circular economy loops.
8. upporting a balanced economic Development of Territories
Groupe PSA demonstrates its contribution to economic development in its host communities, through a balanced distribution of added value among all its stakeholders.
The Group makes local sourcing a key element of its procurement policy and supports the most vulnerable populations through its Foundation.
Source of information
PSA and ProfiBusiness.world
Date