Kellogg Debuts New HI! Happy Inside™ Cereal That Contains the Power of 3-in-1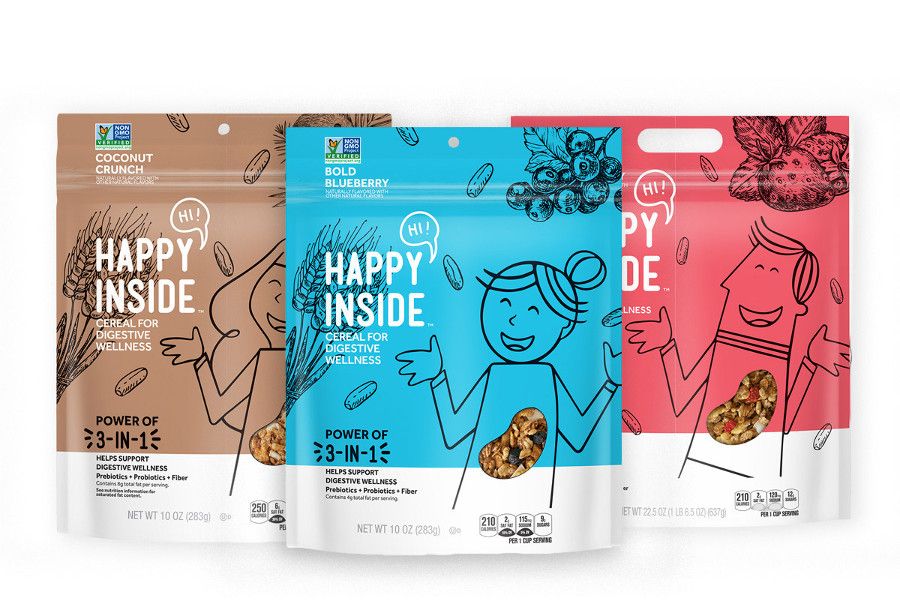 At a time when 92% of adult Americans rate maintaining digestive health as important to their overall health, new wellness brand HI! Happy Inside™ answers their need by delivering prebiotics, probiotics, and fiber1 in an all-in-one cereal. This 3-in-1 cereal makes digestive wellness support easily accessible in food that enriches people's daily lives and provides a choice that people will feel happy inside about.
According to a recent survey commissioned by Kellogg and conducted online by The Harris Poll among over 2,000 U.S. adults, while 29% of Americans say they know about probiotics, prebiotics are a mystery for the average American. Only 15% of respondents shared that they know about prebiotics. When prebiotics are paired with probiotics and fiber, a real food like HI! Happy Inside provides ingredients to support digestive wellness.
"HI! Happy Inside is a delicious cereal with three powerful ingredients to support digestive wellness." said Aleta Chase, Marketing Director for HI! Happy Inside. "This new cereal provides a proactive real food solution to people who want to incorporate more prebiotics and probiotics into their diet."
The powerful 3-in-1 combination of prebiotics, probiotics and fiber support digestive wellness in the following ways:
Probiotics are complimentary, live bacteria. HI! Happy Inside delivers 1 billion CFU live probiotics from active strains.
Prebiotics help feed probiotics which are "good bacteria" for the gut. Specifically, prebiotics are soluble, fermented fiber. HI! Happy Inside has 2.5 grams of prebiotics.
Fiber is an essential nutrient that our bodies need to help function. Unlike others, it's not digested, but acts as an agent to help contribute to digestive wellness and overall health. HI! Happy Inside contains 8-9g of fiber pending variety1.
"Maintaining a healthy digestive system is essential to overall wellbeing and everyday life," said Regan Jones, RD. "Many registered dietitians know that probiotics alone aren't enough and the 3-in-1 combination of prebiotic, probiotics and fiber1 through real foods such as HI! Happy Inside is one thing you can do daily to help support your overall health."
Source of information
Kellogg & Profibusiness.world
Date