Airbus honours its top-performing suppliers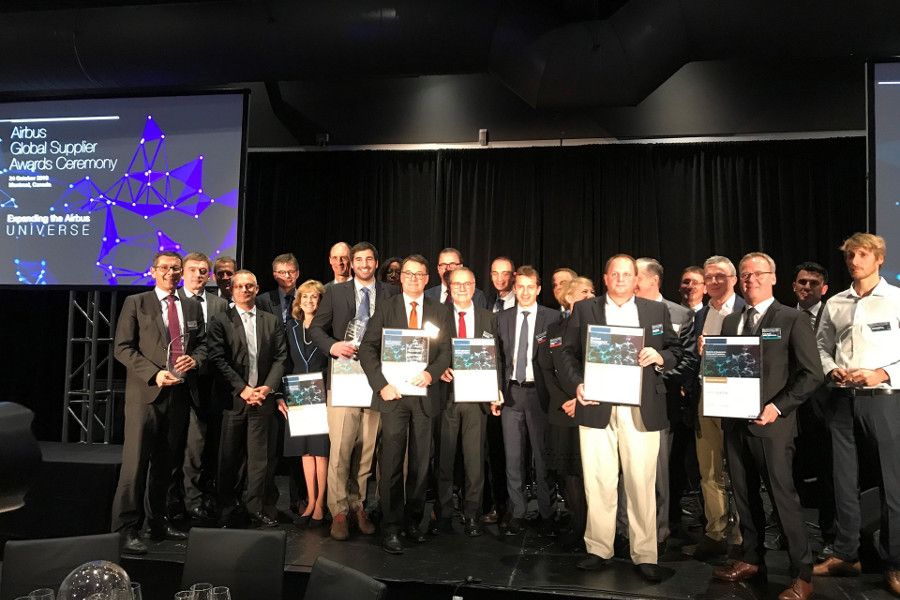 Airbus put a spotlight on the top-performing companies in its supply chain at this week's Global Supplier Conference, recognizing "best-in-class" operations in three key categories: "Industrial Performance," "Customer Support" and "Innovation."
The company works with over 12,000 partners and suppliers across the globe. More than 350 were in attendance at the Global Supplier Conference – held 24-25 October in the Canadian city of Montreal – which provided the opportunity to meet Airbus executives for exchanges on strategy, mutual business challenges and opportunities.
Holding this year's edition of the annual event in Canada is particularly symbolic, coming just months after Airbus introduced the state-of-the-art, Canadian-produced A220 Family into its jetliner product line. Airbus now manufactures, markets and supports the A220-100 and A220-300 – both designed for the 100-150 seat airliner segment – under the aegis of its partnership with Bombardier.
And the winners are…
For the "Industrial Performance" category, a top award went to Liebherr Aerospace Toulouse in recognition of its impressive 99.64% reliability rate, as well as the company's support on the early-adopter initiative for Airbus' "Skywise for Suppliers" aviation data platform.
In the same category, Aleris received an award for outstanding quality performance, as well as the company's contribution to the qualification of new wing skins on Airbus single-aisle jetliners; while Electroimpact earned an award for its exceptional, proactive industrial performance during production ramp-up.
The "Customer Support" award was attributed to Safran Electrical & Power, which received the best rated score by the airlines for consistent customer services.
In the "Innovation" category, Diehl Aviation was honoured for its new galley air chiller with customisable cooling speed and temperature, which will bring weight, cost and reliability benefits to Airbus aircraft.
Also receiving an "Innovation" award was Spirit Aerosystems which designed and manufactured a solution for new spoilers used on the wings of Airbus single-aisle aircraft by applying resin transfer moulding (RTM) in a highly automated factory – resulting in both weight and recurring cost reductions.
MTM Robotics was given an award for the development of a lightweight drilling robot structure for aircraft skins, which will improve the quality and performance of automatic drilling.
Source of information
Airbus & Profibusiness.world
Date