Citroën is celebrating 70 years of its legendary 2CV, revealed at the Paris Motor Show in 1948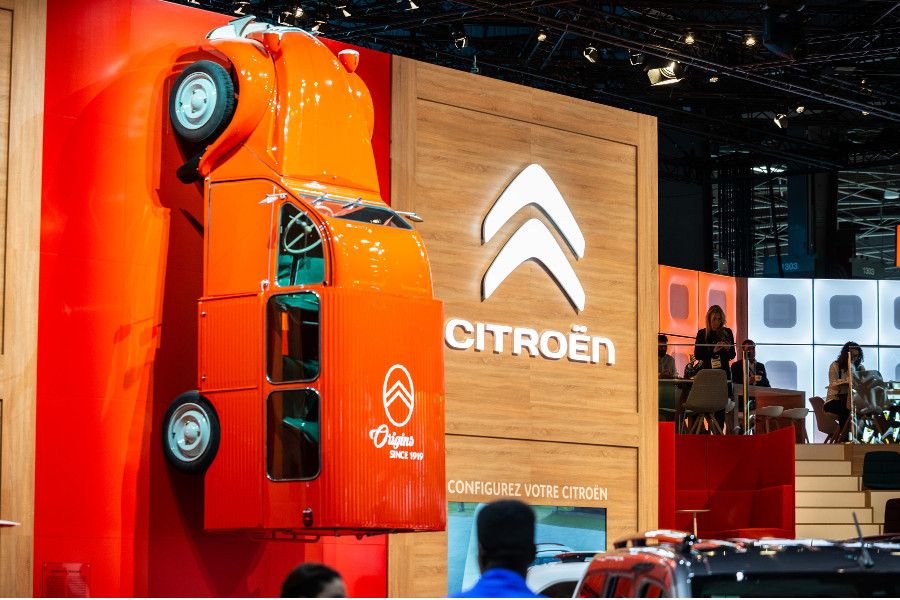 At the 2018 Paris Motor Show, alongside its latest new models, Citroën is giving pride of place to its legendary 2CV, displayed vertically against one of the walls of its stand! The reason: it was 70 years ago, at the 1948 Paris Motor Show, that the most popular of Citroëns was unveiled for the first time! This anniversary will be the subject of a dedicated event this Thursday 11 October at 18:00 on the stand, with a public speech from François Allain, presenter of the 'Vintage Mecanic' show on RMC Découverte and author of a book devoted to the 2CV…
70 years of legend…
1948 Paris Motor Show. Citroën 2CV is unveiled in front of the President of the Republic Vincent Auriol and leaves the crowd speechless. While some made fun of its unique body shape, other saw in it all of the qualities which were still missing from many models of the time: simplicity, lightness, agility, comfort, versatility, etc. From the first few days, the influx of orders proved the Brand and its visionary designers right. André Lefebvre, in charge of the Citroën design office, indeed equipped the 2CV with a mass of ingenious technology for the era: front-wheel drive, smooth long-travel suspension, air-cooled twin engine, etc.
In reality, it was even before the war, from 1936, that the TPV (Toute Petite Voiture – Very Small Car) project was born at Citroën. The objective: to make the motor vehicle a modern product, useful for work in the world of farming and accessible to the working classes, in an era when it was still considered as a luxury item. Simplicity, frugality and ingenuity had therefore to be combined in the interests of an objective: "to carry four people and fifty kilos of potatoes or a keg, at the maximum speed of 60 km/h". The result: the first TPV weighed 370 kg unladen and its cost came in at a third of that of the 11 CV. It even only had one headlamp as the legislation of the time did not call for two!
In 1939, around 250 pre-series models are ready for the Paris Motor Show… But it is cancelled due to the outbreak of war. The vehicles are deliberately destroyed or hidden… After the war, Citroën takes the project up again and so we had to wait until 1948 for the Brand to unveil its 2CV at the Paris Motor Show.
Popular in the true sense of the word, Citroën 2CV subsequently becomes a real societal phenomenon: the car of farmers and vicars alike, of fathers and students alike, it had an exceptional career spanning 42 years, with over 5.1 million units sold (including the small vans) until 1990. Even today, the 'Deuche' remains an icon of motor vehicle history and brings together many collectors throughout the world.
Source of information
Citroën & Profibusiness.world
Date
Fotogalerie