Honda to Begin Sales of All-new CR-V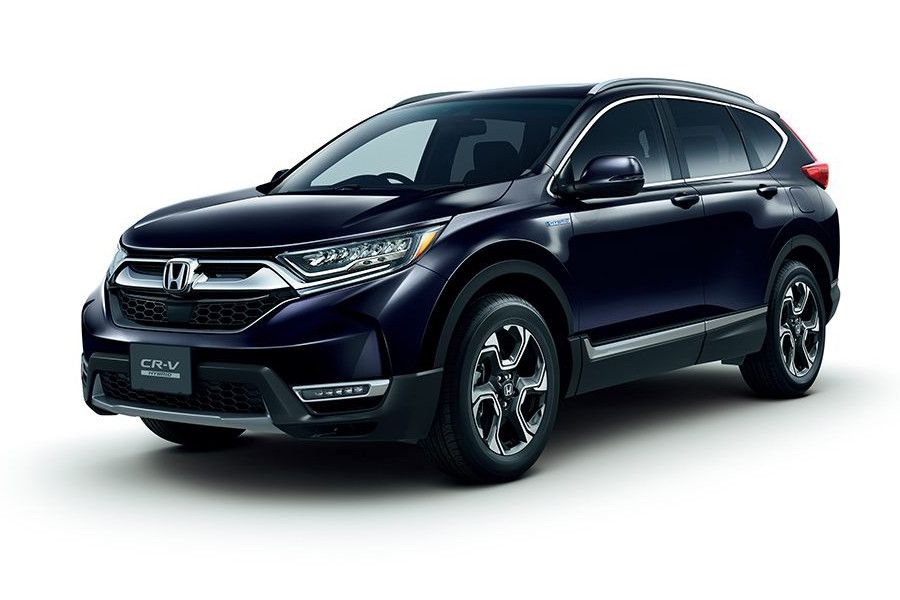 Honda Motor Co., Ltd. will begin sales of the gasoline and hybrid variants of the all-new CR-V at dealerships across Japan. Sales of the gasoline variant will start tomorrow, Friday, August 31, 2018, with sales of the hybrid variant to begin on Thursday, November 1, 2018.
First introduced in 1995, the Honda CR-V is now being sold globally and has grown into one of the global models which represents the Honda brand. As a model to be used by a variety of customers in a variety of environments, CR-V underwent a full model change, and returns as the fifth-generation featuring dynamic performance which provides a comfortable and confident driving experience to customers in any situation. This was achieved without compromising the existing strengths of CR-V, which includes a spacious cabin and user-friendly functionality. Moreover, for the first time among Honda models, a 4WD version will be available for the hybrid variant equipped with the Sport Hybrid i-MMD*1, Honda's innovative 2-motor hybrid system. Furthermore, gasoline variant of the all-new CR-V will offer a 3-row/7-seater version. These new additions will enable the all-new CR-V to accommodate a wider range of customer needs.
Key features of the all-new CR-V
Dynamic performance perfected by Global Honda
All-new CR-V achieved major advancements in every aspect of the vehicle including the basic framework by adopting the next-generation platform Honda began adopting from the latest Civic. The dynamic performance was honed so that the vehicle responds in a linear fashion to the intentions of the driver, which include not only dynamic behavior, such as driving, turning and stopping, but every aspect including even the engine sound.
The lightweight and high-rigidity body with low center of gravity realizes sporty and stable driving in a wide speed range.
The chassis features a front McPherson strut and rear multi-link suspension as well as liquid-sealing compliance bushings and a dual-pinion, variable gear ratio (VGR) electric power steering (EPS) system, which combine to realize outstanding handling performance and occupant comfort at the same time.
A large-diameter disc brake and electric brake booster*2 were adopted to realize outstanding braking performance and direct braking feel.
First hybrid variant in the CR-V lineup and the gasoline variant equipped with a high-output turbo engine
Equipped with Sport Hybrid i-MMD, the first hybrid variant of CR-V operates in three different driving modes – EV Drive, Hybrid Drive and Engine Drive – depending on factors including the driving situation and realizes both class-topping*3 fuel economy of 25.8km/L*4 and powerful driving by shifting seamlessly from one mode to another. At the same time, with a precise setting that naturally aligns vehicle speed and engine sound with the feeling of the driver, the all-new CR-V realizes linear and outstanding drivability.
All-new CR-V will be the first model equipped with Sport Hybrid i-MMD that offers 4WD versions. Real Time AWD, which precisely and quickly controls torque distribution to the front and rear wheels through electronic control, enables reliable performance for starting and turning on snowy roads, and climbing uphill.
Gasoline variant is equipped with a 1.5-liter direct injection VTEC TURBO engine with Dual VCT for intake and exhaust. In addition, with the turbo charger developed exclusively for this model, the all-new CR-V gained torque equivalent*5 to that of a 2.4-liter naturally aspirated engine and linear power feel all the way through the high-rpm range.
The aerodynamics of the all-new CR-V was pursued through a number of wind tunnel tests conducted at HRD Sakura, a Honda R&D facility dedicated to technological development for automotive motorsports. Moreover, the adoption of an Active Shutter Grille system also contributes to the outstanding fuel economy for both gasoline and hybrid variants.
Spacious and comfortable cabin space, versatile seating arrangements and a 3-row seating version*2
The existing strengths of CR-V were further enhanced by realizing a comfortable cabin space within an easy-to-handle body size, versatile seating arrangements and large and user-friendly cargo space through outstanding packaging technologies, enabling the all-new CR-V to achieve top-level space efficiency in the class*6.
The comfort of rear-seat passengers was further enhanced by extending the leg room by 50 mm*7 compared to the previous CR-V models and by increasing the sense of being embraced by the seat through the extension of the seat cushion and seat back.
A one-motion, dive-down mechanism adopted for the rear seats creates a large flat-floor cargo space with a maximum length of 1,830 mm*7, which offers an excellent loading capacity.
For gasoline variant, a 7-seater/3-row seating version, which has the exact same body size as the 5-seater version, is available. Space for seven occupants was secured through the flattening of the fuel tank and the thorough review and pursuit of the floor and roof area designs. Moreover, full consideration was given to the comfort of third-row passengers, resulting in various measures such as the use of springs even inside the third-row seats.
Advanced technologies and comfort features
The Honda SENSING® suite of advanced safety and driver-assistive technologies is available as standard equipment for all types/grades of the all-new CR-V. Honda SENSING supports safer driving, peace of mind and frontal collision avoidance by alerting the driver through the use of millimeter-wave radar and a monocular camera to confirm the situation in front of the vehicle, together with braking/steering control technologies.
All-new CR-V became the first Honda model introduced to Japan that features the Hands-Free Access Power Tailgate,*8 which not only allows the opening/closing of the tailgate with a foot activated sensor underneath the rear bumper,*9 but also has functions to pause the button-activated opening/closing of the tailgate and to store data on the user's desired opening height for the tailgate.
Other enhanced features that help create a comfortable mobility space include the driver's seat with 8-way power adjustment and memory function, driver's seat with 4-way power lumbar support which helps reduce the burden on the driver's lower back and a power panoramic sunroof*8.
Dynamic and sharp exterior design
Compared to the previous CR-V model, the ground clearance was raised by 40 mm*10 and the wheelbase also was increased. In addition, widened tread, 18-inch/large-diameter tires and front and rear fenders with significant overhang contribute to the exterior design that conjures the image of dynamic and dependable traveling performance only SUVs can offer.
For the frontal view, the spirit of innovativeness was emphasized with the adoption of all-LED lights. Some lights such as headlights whose entire surface emits light as a whole and position lamps which display radial gradient of light intensity are creating a distinctive impression of the newly-revitalized CR-V.
Interior that pursued high visual/tactile quality and user-friendliness
Visual and tactile quality of the seats was heightened through the adoption of genuine leather seats,*8 which are well put together to highlight the three-dimensional quality of the seats, and the fabric seats*11 which have a nice woven surface with a glossy texture and good color quality. Moreover, for the surfaces that occupants see and touch frequently, such as the instrument panel and door lining, wood-grain materials and piano-black parts were adopted, highlighting the unique characteristics of the material.
With the use of a movable tray, the center console box can be used in three different ways depending on the users' needs and what items to be stored, including a small handbag and smartphone. In addition, user-friendliness was pursued in every inch of the cabin including the location of cup holders and storage capacity of the front and rear door pockets.
*1 i-MMD: Intelligent Multi-Mode Drive
*2 Adopted by gasoline variant
*3 Class of SUVs with an engine size of 2.0 liter or larger. Honda internal research (as of August 2018).
*4 HYBRID EX (FF), HYBRID EX・Masterpiece (FF) were tested by the Ministry of Land, Infrastructure, Transport and Tourism in Japan with JC08 mode. Fuel economy measured with WLTC: 21.2km/L (The Worldwide harmonized Light vehicles Test Cycles mode is an international driving mode which consists of three different driving modes -- city driving, suburban area driving and highway driving – allocated proportionally to average driving time in each mode)
*5 Comparison with the maximum torque of existing Honda vehicles equipped with a 2.4-liter engine. Honda internal research.
*6 Class of major 5-seater SUVs whose overall vehicle length is more than 4,500 mm and less than 4,750 mm. Honda internal research (as of August 2018).
*7 Honda internal research
*8 Standard equipment of EX・Masterpiece and HYBRID EX・Masterpiece types.
*9 This function works when the user carries Honda Smart Key.
*10 For the 4WD version. For FF version, the ground clearance was raised by 30 mm.
*11 Standard equipment of EX, HYBRID EX
Body colors:
Premium White Pearl*12
Luna Silver Metallic
Crystal Black Pearl
Ruse Black Metallic*12
Midnight Blue Beam Metallic*12
Premium Crystal Red Metallic*13
*12 There will be 43,200 yen (40,000 yen excluding 8% consumption tax) extra charge for these colors.
*13 There will be 64,800 yen (60,000 yen excluding 8% consumption tax) extra charge for this color.
Source of information
Honda & Profibusiness.world
Date
Fotogalerie