Harley-Davidson Delivers Bold Motorcycle Performance and Ride-Enhancing Technology for 2019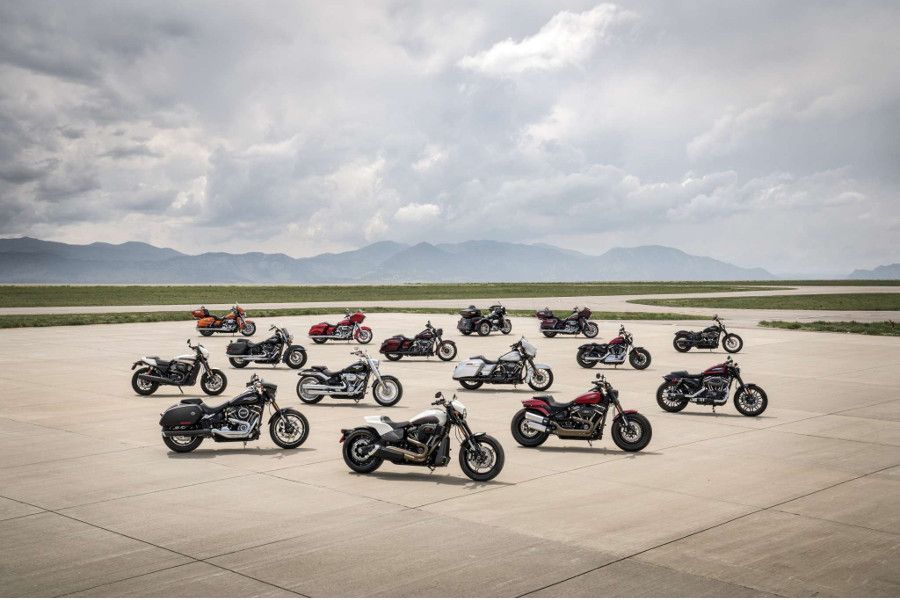 The all-out performance of the new 2019 Harley-Davidson® FXDR™ 114 model sets the pace for Harley-Davidson's new 2019 motorcycles, accessories and gear that deliver fresh style, thrilling performance and advanced technology.
Less than a month after announcing plans for future product in new-to-the-brand categories and a commitment to advance its heavyweight Touring and Cruiser models, the Motor Company introduces a suite of new products that will continue to inspire people around the world to experience the exhilaration of riding a Harley-Davidson motorcycle.
"Harley-Davidson innovation is infused in all of the new products we are offering for 2019," said Harley-Davidson Vice President of Marketing Heather Malenshek. "Innovation in design, innovation in technology, and innovation in performance will inspire Harley-Davidson fans and a new generation of riders to share the wide-open freedom of motorcycling."
New Power Cruiser Offers Racing Style and Performance
The FXDR 114 is an unapologetic power cruiser that brings a new level of performance to the Harley-Davidson lineup. The FXDR 114 combines the unrelenting power of the Milwaukee-Eight® 114 engine with liberal use of weight-saving aluminum and composite components to amplify every aspect of its agile handling and performance.
New Technology for Harley-Davidson Touring and Trike Models
The new Boom! Box™ GTS infotainment system for select Harley-Davidson Touring and Trike motorcycles offers the contemporary look, feel and function of the latest mobile devices and tablets, plus Apple CarPlay compatibility (when a microphone is in use with optional Harley-Davidson® Genuine Motor Accessories headsets) and hands-free voice recognition. The all-new Reflex Linked Brake system for 2019 Harley-Davidson Tri Glide Ultra and Freewheeler® three-wheeled motorcycles is an all-electronic system with features that work together to inspire greater rider confidence. The new braking system incorporates Antilock Braking System (ABS), Traction Control System (TCS) and a linked front and rear braking system, all with an added cornering control feature that senses lateral acceleration and adjusts each element accordingly, plus Drag-Torque Slip Control System (DSCS).
2019 Limited-Edition CVO Models Offer Super-Premium Style and Performance
Three limited-production 2019 Harley-Davidson® Custom Vehicle Operations™ models offer show-stopping finishes, advanced technology, exclusive components and the high-performance Milwaukee-Eight® 117 engine. The new Boom!™ Box GTS infotainment system is standard on the luxurious CVO™ Limited, the aggressive CVO™ Street Glide® and the menacing CVO™ Road Glide®.
Performance, Style and Technology from Harley-Davidson Genuine Motor Accessories
Harley-Davidson® Genuine Motor Accessories are developed alongside new motorcycles to ensure that all customization options are backed by the highest fit, finish, testing and OEM standards. Highlights for 2019 include:
The 7-inch Daymaker® Adaptive LED headlamp utilizes patented sensors and electronics to determine the lean angle of the motorcycle and automatically project additional light into corners to illuminate areas of the road that may be unlit by traditional LED headlamps.
The new Dominion™ Collection offers the unique ability to personalize individual accessory components for almost unlimited custom options to accentuate a bold, high-performance riding style.
Performance-enhancing Screamin' Eagle® Stage Upgrades offer configurations engineered to generate specific torque and horsepower gains, eliminating all the guesswork and trial-and-error testing normally associated with engine modifications.
New FXRG Collection Created for Touring and Urban Riding Environments
Ride when you want, where you want. The new FXRG® Collection of riding gear utilizes road-tested design and innovative technologies and materials to provide comfort in any environment for the most-demanding riders. The FXRG Collection includes jackets, pants, base- and mid-layers, helmets and gloves designed specifically for cross-country touring and for riding in an urban environment.
Complete details on the entire 2019 Harley-Davidson line of motorcycles, accessories and gear are available at a local authorized Harley-Davidson dealer and at H-D.com.
Source of information
Harley-Davidson & Profibusiness.world
Date