2nd Generation Brio Launched at Gaikindo Indonesia International Auto Show 2018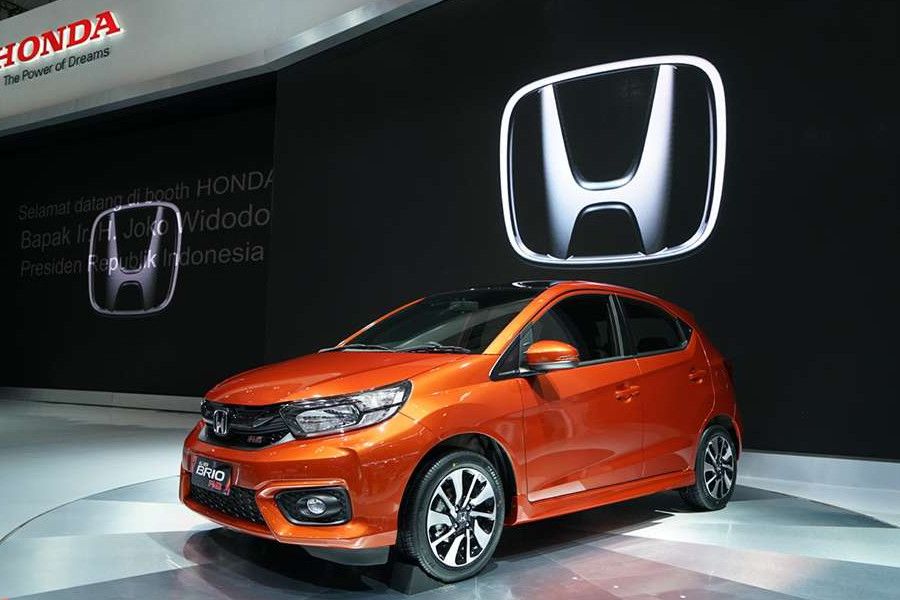 Honda Prospect Motor (HPM) introduced the world premiere of the second generation Honda Brio at Gaikindo Indonesia International Auto Show (GIIAS) 2018, held at ICE BSD. Powered by 1.2-liter i-VTEC engine, the All New Honda Brio presents a new stylish design withnewly added features designed specifically for Indonesian customers.
The launch of the All New Honda Brio that was conducted during the opening of the Honda booth at GIIAS 2018 was attended by:
Masayuki Igarashi, Chief Officer for Regional Operations (Asia and Oceania) of Honda Motor Co., Ltd. and President & CEO of Asian Honda Motor Co., Ltd.
Takehiro Watanabe, President Director PT Honda Prospect Motor
Benawati Abas, Senior Vice President PT Honda Prospect Motor
Agus Budiman, Vice President PT Honda Prospect Motor
Jonfis Fandy, Marketing & Aftersales Director PT Honda Prospect Motor
Takayuki Uotani, Business Planning Director PT Honda Prospect Motor
Tsutomu Harano, Large Project Leader All New Brio, Honda R&D Asia Pacific Co., Ltd
Honda Brio was first launched in Indonesia in 2012, followed by Honda Brio Satya in 2013 which was introduced as an LCGC (Low Cost Green Car) category vehicle. In 2016, Honda Brio came with a fresher and more premium look with new features. Honda also introduced the Honda Brio RS variant that offers sportier character. As of July 2018, a total of 237,272 Honda Brio units have been sold in Indonesia, it has also received 32 awards from various media and prestigious organizations in Indonesia.
The second generation Honda Brio was developed to revolutionize all aspects of the previous generation to be an above-class vehicle based on the needs of its customers. Several changes have been applied in the all-new Brio to emphasize dynamic and sporty design and provide more spacious and functional cabin and luggage space. Equipped with high safety standards, the model offers a fun-to-drive experience while still maintaining excellent fuel-efficiency.
In his speech, Masayuki Igarashi said, "Indonesia is one of the most important automobile and motorcycle markets for Honda within Asia and Oceania region and on a global scale, recording the largest automobile sales for Honda in the region. This achievement was made possible with models developed locally such as Honda Brio, Honda Brio Satya, Honda Mobilio, and Honda BR-V. The launch of the all-new Honda Brio, sportier and fun-to-drive vehicle, is Honda's commitment to continue offering exciting products and the joy of driving to our customers in Indonesia."
Takehiro Watanabe stated, "The all-new Honda Brio is developed specifically by observing the inputs and needs of Indonesian customers. This product will be produced locally in Indonesia, while maintaining international quality standards. With the theme of 'Break Out Break Free,' the All New Honda Brio offers a new driving experience that goes beyond other models in the City Car and LCGC class."
The world premiere of the all-new Honda Brio is one of the main displays in the Honda booth under the theme "Accelerating Innovations." In accordance with the theme, Honda also presents several future technological innovations to support today's highly mobile society.
Located in Hall 10 A Honda booth features a futuristic design. With ​​2.636 m² area, Honda booth displays advanced and sporty cars, including Honda NeuV an electric automated mini-vehicle concept and Honda Civic TCR, racing car. Honda also presents UNI-CUB Zone where visitors can test ride this innovative personal mobility device, as well as Honda SENSING Experience Zone for visitors to experience driving simulation of advanced safety technologies, Honda SENSING through a virtual reality (VR) device.
Honda also launched the latest model of Honda HR-V which now presents more stylish exterior and updated features. 28 cars are displayed for customers in various segments including Mobilio, Jazz, BR-V, HR-V 1.5L, HR-V 1.8L, CR-V, City, Accord, Odyssey, Civic Sedan, Civic Hatchback, and Civic Type R.
Marketing and After Sales Service Director of PT Honda Prospect Motor, Jonfis Fandy said, "Our theme at GIIAS 2018 reflects various series of Honda activities through out this year topush forward various technological innovations for mobility. Moreover, we also prepare various programs that will facilitate customers in buying a Honda car and after-sales program that will ligthen the cost of vehicle maintenance. We believe the new products and programs we offer in this event can refresh the market by bringing a new excitement to the automotive market in the second half of this year. "
Source of information
Honda & Profibusiness.world
Date